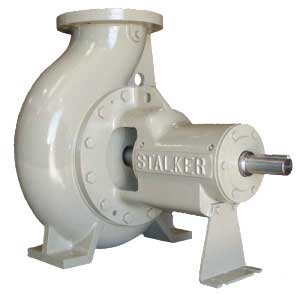 The Stalker ISO Series includes the ISO 2858 & ISO 5199 ranges. The Stalker Pumps ISO series are manufactured in Western Australia to the highest quality, employing the best engineering practices available. Our ISO range are designed and manufactured to internationally recognised ISO 2858 standard. Applications & Options:
Available as standard direct coupled units suitable for direct coupling or pulley driven by electric motors, petrol or diesel engines and hydraulic motors.
Manufactured for close coupling to electric motors.
Suitable for pumping clean water, sea water, raw water, process water, waste water, sewage and hazardous as well as corrosive liquids.
Supplied as stand-alone units or coupled to the drive of your choice.
Mounted base frame and/or Heavy duty Trailer mounted assemblies available.
Can be configured to suit a wide variety of application conditions which are not catered for by other manufacturers.
Consumable material options available for high tensile fasteners, high grade material O-rings, oil seals and mechanical seals.
Various material options.
Operating Limits: (Model Dependant, Refer to Individual Model Curves)
Heads: up to 160 metres
Capacities: up to 250 litres per second
Model

Inlet

Outlet

Impeller Diameter (mm)

Shaft Number

Shaft Diameter

Required Spacer Length

NOMINAL

MIN

MAX

Seal Size

End

125×100-315

125

100

315

274

342

18

53

42

140