Established in 1923, Stalker Pumps is an Australian owned company dedicated to delivering innovative, reliable and dependable pumping solutions to the Australian and world wide market. This commitment and experience spanning over 90 years has built an enviable reputation for manufacturing rugged, dependable & easily maintained pump systems. Australian designed, engineered and manufactured to high quality standards, Stalker Pumps have a proven track record across almost every major industry including Mining, Agriculture, Oil & Gas, Civil & Marine Construction and Manufacturing. Additionally, Stalker Pumps have achieved successful results in numerous and diverse applications within in each industry. Our products are renowned for their durability to operate at their fullest capacity in the most extreme environments. Due to our commitment to product development and quality, we are continuously developing and improving alongside the markets needs and our clients requirements systems designed to operate in a diverse range of conditions. This includes but is not limited to petrochemical applications, mineral sands processing, slurry management, dewatering and the marine, oil and gas and mining sector. As added assurance, Stalker Pumps is ISO: 9001 certified so customers are guaranteed of supply with a high quality product that lasts longer and requires less maintenance. The Stalker Pump product range includes but not limited to: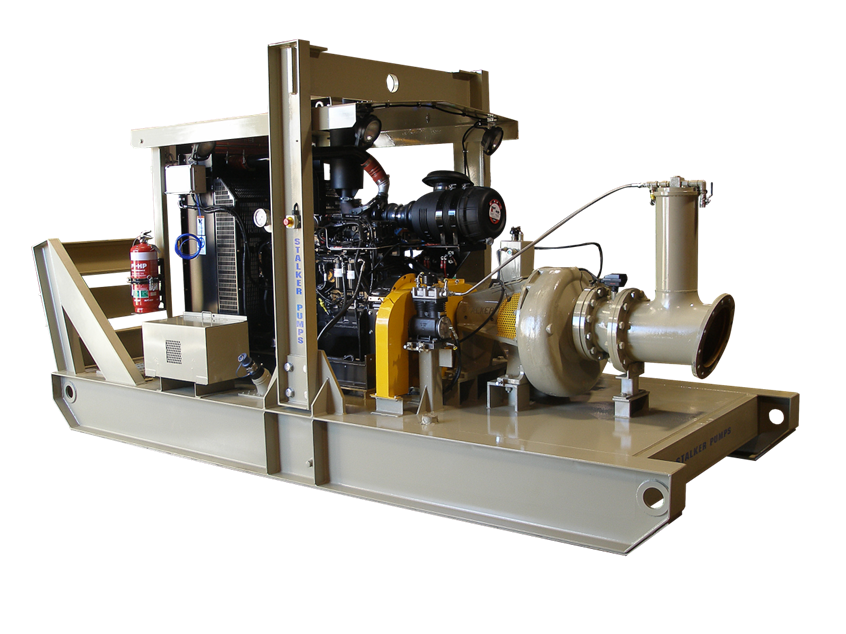 ISO 2858 Pumps – the traditional Red Stalker centrifugal pumps
ISO 5199 End Suction Centrifugal Series
Self Priming (APR) Range
Submersible Pumps
Compact Series
Plus two ranges of pumps developed for heavy duty application:
Stalker APC  (Auto Prime Compressor)
Stalker SHD (Special Heavy Duty)
Customised Solutions: Our highly skilled & experienced design team can work with you to develop solutions that meet your particular needs & specifications. Examples might include…
Project-specific pump systems (small to large scale)
Dewatering Units
Our premise includes our Machine, Paint and Fitting Shop, Service & Repair Area, Fabricating Bay as well as our testing area. This enables us to provide short lead times on new pumps & have spare parts readily available. We offer a range of metals depending on your pump specifications so you can have a product that is customised to suit your needs. If innovation is vital to project success – or reliable service really matters – or dependability is absolutely critical – or even when you need all three! The only solution is Stalker Pumps. We look forward to your product, project or sales enquiry. To contact us, click here.